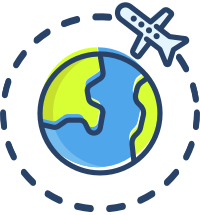 The Story
In October 2019, Idries Erfan and Luke Tritton decided to put all of their money and time into building an app. Why?

Idries realised that sending parcels abroad was very expensive and time-consuming. He envisioned an app that made that less of a problem. He called up his friend Luke who was running a business selling products on Amazon. They both loved e-commerce but found shipping to be a massive pain. Royal Mail was acceptable but international prices were high, the Post Office queues were long, and the whole process seemed to be inefficient.

Knowing that a lot of other people felt similarly, they thought they would try and build an app to help other people in the same situation. They wanted to change how parcels were sent and show everyone the different options that are out there.

There were certainly some highs and lows but we have created the product that we envisioned: save money, time and the environment when you are sending parcels.